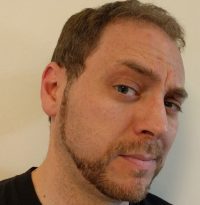 Danny Sag
Danny claims to be the most dedicated Discworld fan in Adelaide, having fallen in love with the books at the age of 12.
He joined Unseen Theatre Company in 2000, and after a few years in various roles, directed "The Truth" in 2003. He then took a decade-plus hiatus from theatre before returning to the stage with Unseen in 2016.
In the intervening years, he made sure to watch all the Unseen productions, and also and became heavily involved in Discworld fandom.
Danny has been a volunteer at all Australian Discworld Conventions since 2007, and a founding member and Chairperson of the City of Small Gods – Adelaide's Terry Pratchett Fan Club.
All of these pursuits culminated in being Chairperson of Nullus Anxietas VI – The Discworld Grand Tour – The Australian Discworld Convention in 2017, which had over 200 attendees and featured Stephen Briggs as a special guest.
This is one of his proudest achievements. Acting's fun too, of course.
CAST
Guards! Guards! (2000) – Lupine Wonse/Supreme Grand Master
Men At Arms (2001) – Captain Quirke/Lord Rust/Cornice-Overlooking-Broadway/Leonard of Quirm
Pratchett Pieces (2002) – Punch/John
Lords and Ladies (2002) – Bestiality Carter
The Fifth Elephant (2002) – Igor
The Truth (2003) – Disorganiser
Mort (2003) – Doorknocker/Abbott Lobsang/Vizier/Wizard/Acolyte/Emcee
Feet of Clay (2016) – Lord Vetinari/Lord Downey
The Truth (2017) – Otto Chriek/Disorganiser/Shadow
Eric (2018) – Ponce da Quirm/Ephebian Sergeant/Duke Vassenego
CREW
Men At Arms (2001) – Publicity
Lords and Ladies (2002) – Assistant Director, Publicity, Photography, Programme, Poster
The Fifth Elephant (2002) – Publicity, Photography
The Truth (2003) – Director, Publicity, Poster, Photography
Mort (2003) – Production Manager, Publicity, Poster, Photography
Maskerade (2004) – Publicity, Front of House
Pyramids (2007) – Original Adaptation
The Truth (2017) – Programme
Eric (2018) – Programme