5 Mar 2008
to
11 Mar 2008
Wed to Sat at 5.30pm
This show has finished
Performance dates
5 Mar 2008 5:30pm (Wed)

Preview

6 Mar 2008 5:30pm (Thu)

Opening night

7 Mar 2008 5:30pm (Fri)

11 Mar 2008 5:30pm (Tue)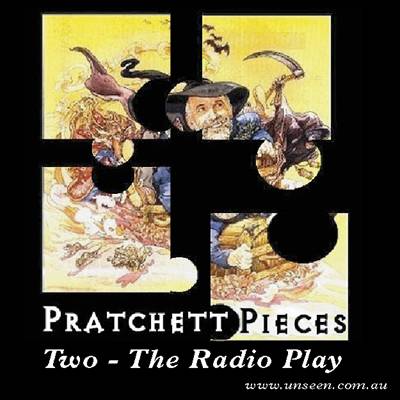 This show has finished
Performance dates
5 Mar 2008 5:30pm (Wed)

Preview

6 Mar 2008 5:30pm (Thu)

Opening night

7 Mar 2008 5:30pm (Fri)

11 Mar 2008 5:30pm (Tue)
Pratchett Pieces Two –
The Radio Play.
Bite-sized Terry Pratchett comedies performed as radio plays with live sound FX.
Original short stories written by Terry Pratchett. Adapted for the stage by Pamela Munt, and then for radio by Rod Lewis.
Directed by Rod Lewis
The Discworld is on the air with an outrageous collection of short stories by Terry Pratchett, performed in the crazy style of an old time radio show. THRILL to the action! LAUGH at sound effects created live on stage! SWOON over the real looks of those handsome heroes, leading ladies and worn out warriors who will stop at nothing to prove that they still have it!
Anything is possible in the outrageous world of aural illusion!
ABOUT THE STORIES
Our heroes tell us that in death, there is honour. We've been promised an afterlife worth fighting for. But when a fictional character meets his maker, can an author live up to the expectations of his medieval creation?
Then meet Cohen the Barbarian, who has spent his life fighting for a better future. But the Trolls under the bridge are overweight businessmen nowadays. The forests are chopped down, and there's no one left to fight. Sometimes you can be too good at your job.
But can Cohen make one last stand for truth, justice and the Barbarian way?
ABOUT THE AUTHOR
Terry Pratchett was Britain's biggest selling author until JK Rowling came along with her Harry Potter stories. Pratchett's books have sold over 50 million copies worldwide and been translated into 33 languages. His books also hold the world record for the most shoplifted novels in the UK.
Terry is most renowned for creating the "Discworld", a fantasy universe that rides on the back of the great space-faring turtle, A'Tuin. On this world, the impossible becomes possible, and with more than 40 stories under his belt so far, he is regarded as one of the most significant contemporary English-language satirists.