An hilarious romp through space, time, history and the torture chambers of Hell
5 Oct 2018
to
20 Oct 2018
At 8pm
This show has finished
Pricing
$22

Adult

$18

Concession

$16

Groups of 6+, Previews and Fringe Members
Performance dates
5 Oct 2018 8:00pm (Fri)

Preview

6 Oct 2018 8:00pm (Sat)

Opening night

10 Oct 2018 8:00pm (Wed)

11 Oct 2018 8:00pm (Thu)

12 Oct 2018 8:00pm (Fri)

13 Oct 2018 8:00pm (Sat)

17 Oct 2018 12:00am (Wed)

18 Oct 2018 8:00pm (Thu)

19 Oct 2018 8:00pm (Fri)

20 Oct 2018 8:00pm (Sat)
Credits
Original author:

Sir Terry Pratchett
Warnings
Dry ice, Strobe lighting
Categories
Comedy, Discworld, Fantasy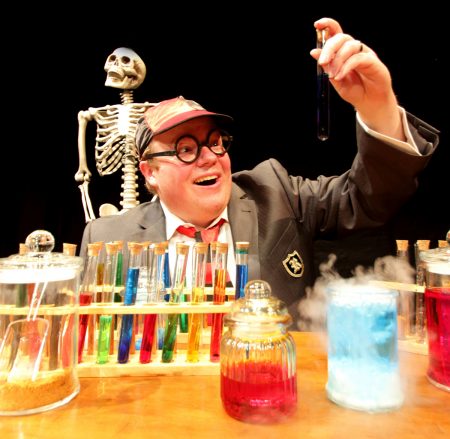 "The chemistry between Irving and Tutty is perfect... Their comedic timing and range is on point. .. Eric boasts a talented cast of supporting players who undertake multiple roles. These include Alycia Rabig, Paul Messenger, Aimee Ford, Danny Sag, Harold Roberts, Hugh O'Connor, and David Dyte.....these actors are commendable and often hilarious. The blood-red lighting during the Hell scenes added a perfect demonic ambiance.
As usual, Adelaide-local Pamela Munt acts as both adaptor and director. She brings Terry Practchett's singular Eric to life, with the help of her talented troupe. Any fantasy fan will be well pleased"
Nicola Woolford
- Glam Adelaide
GOOD CHEMISTRY ON STAGE – Advertiser Review.
"Pamela Munt's adaptation to the Unseen Theatre Company's house style, has laughs and thoughts enough to satisfy fans. Hugh O'Connor stands out as the Lavaeolus, the Discworld Ulysses, and Amy Ford is an energetic Urgglefloggah...Danny Sag impresses in multiple roles and Alicia Rabig is a great parrot and creator of planets. Other demons and denizens are incarnated by Paul Messenger, and Harold Roberts. Special mention must be made of David Dyte as the carnivorous luggage.There are some great costumes and technical effects from Michelle Whichello and Stephen Dean"
Ewart Shaw
- The Advertiser
.... be prepared for mayhem and madness, melded together by a brilliantly observational intellectual mind. Pamela Munt has worked hard with Sir Terry's vision, by adapting, producing, and directing his written novel into to a two-hour play for her Unseen Theatre Company.
The idea of Hell being a group of bureaucrats brings relatable terror into our modern age, and the use of Mick Jagger's fallen angel voice singing both Sympathy For The Devil, and You Can't Always Get What You Want, shows a touch of demonic genius.
Unseen Theatre has a history of attempting the almost impossible, with the utmost sense of fun, and this production continues to delight Pratchett fans.
Christine Pyman
- Broadway World
This show has finished
Pricing
$22

Adult

$18

Concession

$16

Groups of 6+, Previews and Fringe Members
Performance dates
5 Oct 2018 8:00pm (Fri)

Preview

6 Oct 2018 8:00pm (Sat)

Opening night

10 Oct 2018 8:00pm (Wed)

11 Oct 2018 8:00pm (Thu)

12 Oct 2018 8:00pm (Fri)

13 Oct 2018 8:00pm (Sat)

17 Oct 2018 12:00am (Wed)

18 Oct 2018 8:00pm (Thu)

19 Oct 2018 8:00pm (Fri)

20 Oct 2018 8:00pm (Sat)
Credits
Original author:

Sir Terry Pratchett
Warnings
Dry ice, Strobe lighting
Categories
Comedy, Discworld, Fantasy
ABOUT THE SHOW:-
Eric has been described as "the Discworld's only demonology hacker", but all he really wants is three wishesThat sounds simple enough, right?
No, this is not your favourite fairytale from your childhood.   Far from it.  Well, maybe not that far……..just as far as the Discworld where demons, wizards, hell-hounds, hostile travel accessories, and more demons, thinly disguised as public servants with a penchant for excessive amounts of stationary and memos, are real.  Well…real-ish.
But to get back to Eric, the clever young man with a Faust-like spirit of insatiable scientific inquiry.  It turns out that he is not quite as clever a hacker as he thinks he is. Instead of calling up a malleable, complaisant, but experienced demon to grant his wishes, his magic circle has managed to retrieve the most incompetent wizard in the universe …Rincewind.
What follows is an hilarious race through space and time. Not to mention, the torture chambers of hell. (which I think I just did – oops