"Dead is only for once, but running away is forever" - Rincewind. From Sir Terry Pratchett's novel adapted for the stage by Pamela Munt and Melanie Munt
19 Sep 2014
to
4 Oct 2014
This show has finished
Duration
2 hours plus 10 minute interval
Performance dates
19 Sep 2014 8:00pm (Fri)

20 Sep 2014 8:00pm (Sat)

24 Sep 2014 8:00pm (Wed)

25 Sep 2014 8:00pm (Thu)

26 Sep 2014 8:00pm (Fri)

27 Sep 2014 8:00pm (Sat)

1 Oct 2014 8:00pm (Wed)

2 Oct 2014 8:00pm (Thu)

3 Oct 2014 8:00pm (Fri)

4 Oct 2014 8:00pm (Sat)
Cast
Archchancellor Ridcully :

Paul Messenger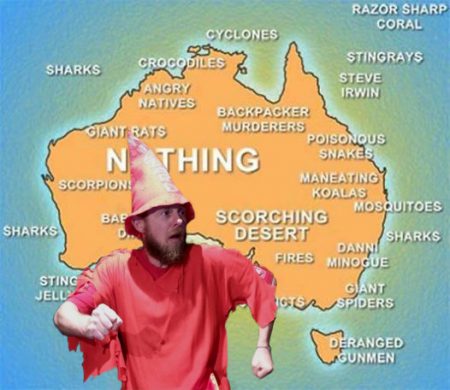 This show has finished
Duration
2 hours plus 10 minute interval
Performance dates
19 Sep 2014 8:00pm (Fri)

20 Sep 2014 8:00pm (Sat)

24 Sep 2014 8:00pm (Wed)

25 Sep 2014 8:00pm (Thu)

26 Sep 2014 8:00pm (Fri)

27 Sep 2014 8:00pm (Sat)

1 Oct 2014 8:00pm (Wed)

2 Oct 2014 8:00pm (Thu)

3 Oct 2014 8:00pm (Fri)

4 Oct 2014 8:00pm (Sat)
Cast
Archchancellor Ridcully :

Paul Messenger
This one is your choice – we asked our audiences at Thief of Time recently which play they would like to see next. The Last Continent was the winner. It was followed closely by Lords and Ladies (so maybe keep an eye out next year). So we go back in Time again! This time to 6 years ago when we first produced The Last Continent. So if you missed it then, here is your chance to catch up! Of course it won't be exactly the same, because that is what live theatre is about – every show is different!
Here is what some of the reviewers said about our 2009 production:-
"…..the overall feel is something like a cross between Hitchhiker's Guide to the Galaxy and Harry Potter….Following a Tolkien-esque hero's journey, Rincewind is assisted by a magical kangaroo and a crocodile that runs the Didyabringabeeralong pub….. a great night out" – Samantha Bond – Independent Weekly
"..There is never a dull moment…..Cultural icons, in deviant and hilarious reconfigurations, appear at irregular intervals, from Priscilla, Queen of the Desert, to the invention of Vegemite, nothing is sacred…. (you) will not want to miss this production" – Barry Lenny – Glam Adelaide
ABOUT THE STORY:
On the Discworld anything can happen. Or even "not happen". Sometimes it's difficult to know which is which – even for the Wizards at Unseen University.
In this case, The Last Continent was "not happening". It was dying, even as it was being built. Even the Gods who were building it didn't quite know what was going on. Some thought it was to do with the space/time continuum, some thought it was to do with evolution taking control of itself. Others thought that there was not enough magic left in the world to glue all the pieces together. Others thought it may be something to do with the lack of rain. The one thing that they all agreed on was that it needed a hero. A hero who could eat a Pie Floater even when he was sober…….. Yep it's our old friend Rincewind, the inept wizard who can't even spell wizzard, but he's the only hero left. Still…..no worries, right?
All proceeds from the Opening Night Performance will be donated to SAVES (The South Australian Voluntary Euthanasia Society)  http://www.saves.asn.au