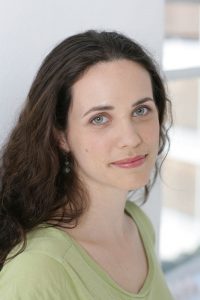 Melanie co-founded Unseen Theatre Company with Pamela in 1999 and was instrumental in creating the whole world which is now Unseen Theatre Company.
During her first few years with Unseen she played a wide variety of roles including Princess Kelly, Footnote, Angua and others too numerous to mention.
She also took on many backstage roles like Publicity Officer, Stage Manager, Assistant Director and jointly Directed the first Pratchett Pieces with Pamela for the Adelaide Fringe in 2002.
Melanie then moved on to become a professional actor after having studied at the Western Australian Academy for Performing Arts. Her list of stage performances is too long to mention them all, but one of her favourites was for The State Theatre Company in Perth in "The Glass Menagerie".
Her television appearances include "Lockie Leonard" and "Sea Patrol", amongst others.
Since then she lived and worked in Hollywood making numerous films, television and stage appearances.
She has now moved back to Adelaide and is working in film, television and stage here.  Hooray!!